Vacuum Glass Lifter - Wienold Lifte - SLK-25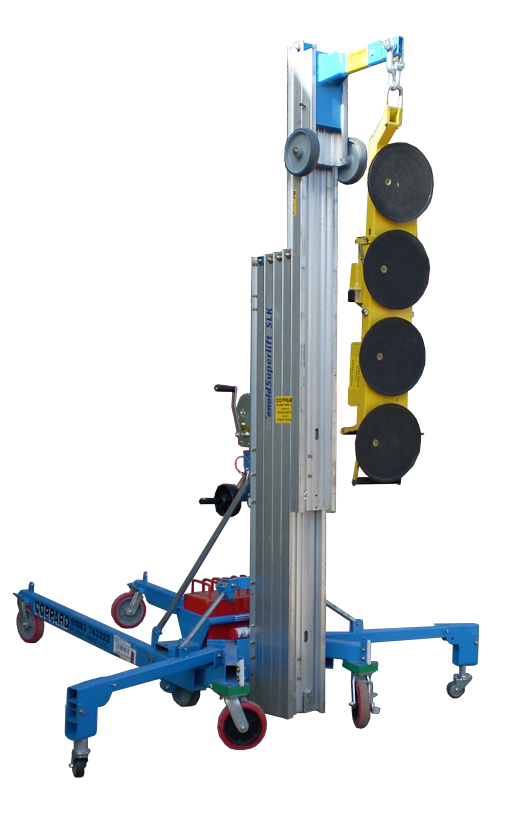 Robust and vigorous the Superlift put his skills to the best while working with heavy loads, for exhibition, installation of façades, windows, heating and ventilation, and more. The Wienold Superlift with counterbalance weights is an excellent helper to raise loads over obstacles, directly to walls, or to levels above. For this, the outriggers of the SLK are aligned to the rear and arranged lifting accessories front. In order to obtain the safe working load of a maximum of 450 kgs, a weight-box with 8 counterweights is attached on the rear end. Thus, the lift is safe and stable when deployed over 6.50 m. With Models 20 and 25 separate lateral outriggers are needed at a working hight from 5.00 m.
To offer optimum handling characteristics the SLK is equipped with four large swivel castors with integrated brake. The lateral outriggers for model 25 are also steerable.
Available with working height up to 7.90 m the payloads is 300 kg. The set includes: Chassis with 2 transport wheels, two large casters with brakes and two foldable outriggers also with two large wheels and parking brake.
Furthermore, the Superlift has a high quality Genie mast system with rope break protection, 1-gear winch, adjustable loading assistance, a weight box with eight counterweights of 16 kgs each and a standard fork. SLK 25 includes two additional lateral outriggers with small castors supplied. Ideal complement to the Superlift are our vacuum pads. They are perfectly adapted to the carriage of our lifts. Perfect to assemble heavy disks or windscreens and large panels with a smooth surface easily. Working quickly, easily and without physical exertion - no problem by using the Wienold SLK.