The Nomad is a new and unique lifting equipment, perfect for small and medium-sized glassworks, window manufacturers. Ensures safe handling of large windows, while reducing labor costs and the risk of injury.
Glass transporter and installing machine with a 300kg lifting capacity and can be used by one or two operators. Attachment and Extension Arm – Fits onto the Nomad allowing plates up to 4500mm to be rotated from the horizontal to the vertical. Used to transport glass on-site (outside the factory environment) and install glass up to 4500mm high into top and side pocket window frames.
The machine is easy to disassemble and reassemble when dismounted can be easily taken to the construction site on a truck along with glass, then reassembled in minutes and used profitably.
This device provides:

Companies that are seeking productivity gains by using less men to complete the larger glazing tasks (generally the use of our equipment can halve the man power required for jobs requiring 3 or more people to complete);
Smaller glazing businesses that wish to take on larger jobs, (jobs they previously couldn't accept due to lack of man power);
Smaller glazing businesses that don't have an overhead crane in their factory. Hence can use this machine to transport glass and windows around their factory;
Aluminium and steel fabricators can move large and bulky sheets;
Carpenters can handle smooth surface bench tops and doors;
Glass manufacturers can utilise the equipment to rotate, transport and stack glass sheets in the warehouse or tilt tables;
Window manufacturers;
Stonemasons can now handle and install slate sections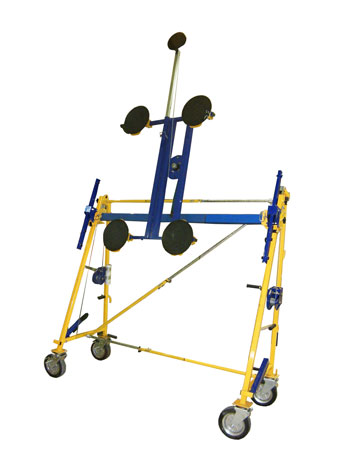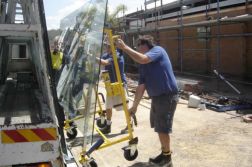 It unloads the glass sheet from the truck rack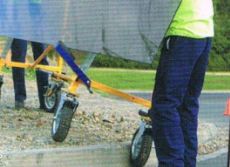 It's equipped with large pneumatic wheels diameter 200 mm for installations in shopping centers,or wheel diameter 300 mm which allow you to travel even on rough terrain or construction sites.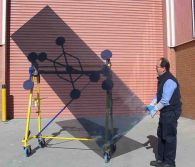 The rotating head allows you to rotate sheets up to 4500 mm long from the horizontal to the vertical axis.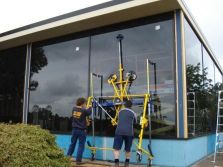 The Nomad is able to lift sheets up to 4500 mm high and install the windows in most of the frames.