Glass transporters - KS Schulten - KS MultiCrawler
KS MultiCrawler with hydraulic drive for loads up to 500 kg
On construction sites the external constructions are usually finished at least. The technicians encounter poor soil conditions e.g. clay, mud or gravel and it is very difficult to assembly large and bulky components. That means it is time for the KS MultiCrawler. It plays his strengths in the terrain.
Two variants are available: On the one hand the C500 with pivoted crane for loads up to 500 kg and on the other hand the Crane with fixed telescopic crane for loads up to 400 kg. Both versions are provided for the transport of suspended loads. The bracket of the Crane can be telescoped in steps: manual up to 940 mm and hydraulic up to the second step of 2.000 mm.
The C 500, however, is operated completely by a hydraulic lift cylinder. The telescopic arm is stepless wheel-away and adjustable in height. It scores particularly in confined spaces with a high ease of use.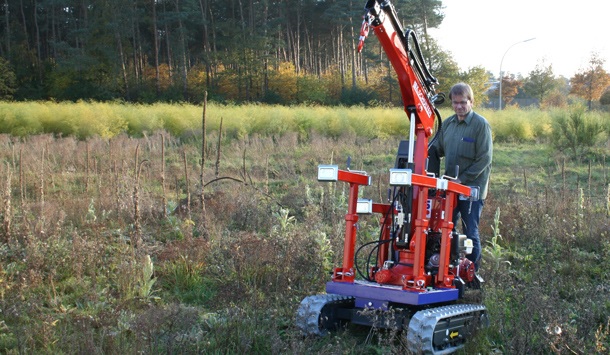 Advantage:
Suitable for all terrain
For loads up to 500 kg, depending on the model
Hydraulic drive for more ease of use
Track width adjustement for higher stability
Swap body system suitable for different ranges of application
Low maintenance
High-quality and safe by CE-certification
Simplified work process, relief the employees, ergonomical work
Efficient working method, cost saving
Technical Data:
| | | |
| --- | --- | --- |
| Type | Crane | C 500 |
| Bearing Load | 400 kg | 500 kg |
| Lifting Height | 4200 mm | 4500 mm |
| Telescope | First step mechanical, second step hydraulic | Hydraulic cylinder |
| Crane arm | fixed | rotating 180° |
| Angle of inclination | 55°upwards, 50° downwards | 80° upwards, 70° downwards |
| Measurements(LxBxH) | 16330mm x 760 mm x1260 mm | 16330mm x 760 mm x1260 mm |
| Gauge | 760 - 1060 mm | 760 - 1060 mm |
| Net weight | 1.150 kg | 1.150 kg |
| Engine | Honda, 9 KM, petrol | Honda, 9 KM, petrol |
| Speed | 0-4,5 km/h | 0-4,5 km/h |
| Drive | stepless | stepless |