Glass transporters - KS Schulten - KS Robot 600
KS Robot 600 with XXL telescope for loads up to 600 kg
The KS Robot 600 belongs to the strongest electrically driven vehicle for lifting and assembly of heavy glass panes, windows, doors, metal sheets, stone-, wooden or PVC plates. KS Robot 600 handles with easiness loads up to 600 kg.
Despite his good load capacity and his solid construction the Robot scores by its compactness and mobility. A small turning circle and a small chassis of only 729 mm characterizes the KS Robot 600 even in confident spaces or when driving through narrow passages.
Also his high-quality and technical equipment is impressive: the synchronous control with levelling-function guarantees for example that the glass panes are always in the adjusted angle during the lifting and lowering. As a result the glass panes can be installed exactly, comfortable and time saving.
Precise installation and a high ease of use
The flexible adjustment of the axis contributes to a millimetre precise installation. All KS Robots are equipped with such function. It causes that the glass panes can be moved lateral up to 100 mm and therefore precisely.
A further advantage is the equipment of the KS Robot with an especially long telescope of 900 mm and a special swing system. So an outreach of up to 3.044 mm height (3.491 mm horizontally) can be reached. Telescoping, tilting, lifting and lowering are electrically controlled. The pick-up of loads from the bottom is possible as well as an electrical overhead swinging.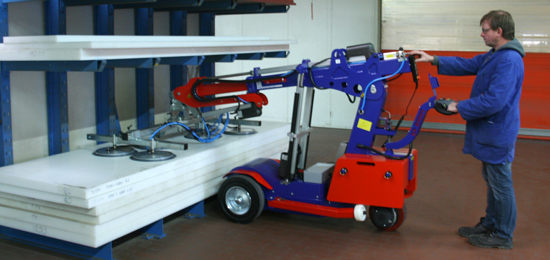 The KS Robot 600 impressed:
900 mm telescope lift provides a large outreach
Constructed for very high bearing loads up to 600 kg
Special swing system (optional): electrical turning folding hinge to lift glasses from the plate and to swing them up to 90° overhead
Easy to handle
Intelligent drive for a soft start
Synchronous control provides a lifting at a constant angle of inclination
Millimetre precise installation by sideward deviation
Vacuum suction unit with two circuits and two separates pumps for a higher security during installation
Acoustical and optical vacuum control, each single circuit will be controlled and shown
High ease of use by multifunction steering wheel and remote control
Solid rubber tires with a wide surface
High-quality lifting cylinder with 10.000 N force per cylinder
Gas pressure damper for a high durability of servo-cylinder and also compensate big impacts while driving on uneven ground
High-performance battery
24 volt socket on the gadget for charging of installation instruments such as cordless screwdriver and compressor etc.
Technical Data:
| | | |
| --- | --- | --- |
|   | Standard | Special turning articulated joint |
| Load capacity | max. 600 kg | max. 600 kg |
| Working height vertical | approx. 2950 mm | approx. 3044 mm |
| Working height horizontal | approx. 3449 mm | approx. 3491 mm |
| Outreach in front of the wheels | approx. 1429 mm | approx. 1600 mm |
| Gadget width | approx. 729 mm | approx. 729 mm |
| Total weight | approx. 1000 kg | approx. 1080 kg |
| Counter weights | approx. 442 kg | approx. 502 kg |
| Sideward-deviation | +/-50 mm = 100 mm | +/-50 mm = 100 mm |
| Battery capacity | approx. 8h | approx. 8h |
| High performance battery | 2 x 12 V = 24 V | 2 x 12 V = 24 V |
| Vacuum suction unit | Automatic 2 circuit suction system with 2 vacuum pumps, 6 suction plates | Automatic 2 circuit suction system with 2 vacuum pumps, 6 suction plates |
Drawnings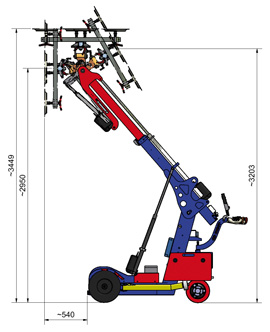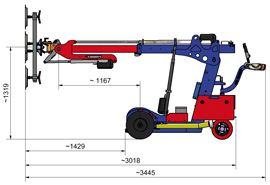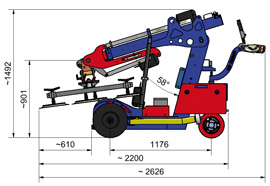 Specjalnie zwrotny przegub