Glass transporters - KS Schulten - KS Robot 550
KS Robot 550 excellent for elements with a weight up to 550 kg
KS lifting and assembly equipment for glass, windows, plates, stoneware up to 550 kg load. The equipment with a chain module simplifies the assembly. All pan and tilt are controlled electrically. Thus, the elements can comfortably handle and assemble precisely.
The KS Robot particularly stands out through his design in the colours red and blue and through his rounding. His chassis remembers the car industry and also under the cover the KS Robot is impressive. A powerful electric drive and a 24 V high performance battery have the strength to transport and install heavy elements up to 550 kg. Furthermore, the quality of the vacuum suction unit plays an important role.
The unit is equipped with six suction plates which run by two separate circuits and two pumps. In case of a breakdown of a pump or a vacuum circuit, the second circuit generates still enough suction power to hold the element. That's the way how a high security will always be given.
Dwie wersje do wyboru
In order to offer you a product to your requirements we produce the KS Robot 550 in two versions – standard and optional with chain module. Both have a load capacity of 550 kg but the lifting height and the load in front of the wheels are different.
Everybody who wants to lift elements from the pallet and swing them overhead chooses the version with the special chain module*. The standard version doesn't include such a function.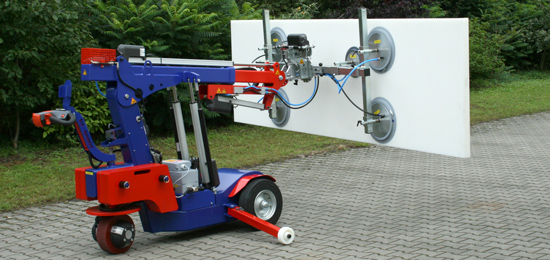 The KS Robot 550 is impressive:
Easy to handle
Intelligent drive for a soft start
Synchronization system ensures lifting with constant inclination angle
Millimetre precise installation by sideward adjustment
Equipment with chain modules (optional): for lifting glasses from the pallet and to swing them up to 90° overhead
Vacuum suction unit with two circuits and two separate pumps for a higher security during installation
Acoustical and optical vacuum control, each single circuit will be controlled and shown
High ease of use by a multifunctional steering wheel and a remote control
Solid rubber tires with a wide surface
High-quality lifting cylinder with 10.000 N force per cylinder
Gas pressure damper for a high durability of servo-cylinder and also compensate big impacts while driving on uneven ground
High-performance battery
24 volt socket on the gadget for charging of installation instruments such as cordless screwdriver and compressor etc.
Technical Data
| | | |
| --- | --- | --- |
|   | Standard | Special turning articulated joint |
| Load capacity | max. 550 kg | max. 550 kg |
| Working height vertical | approx. 2207 mm | approx. 2280 mm |
| Working height horizontal | approx. 2617 mm | approx. 2725 mm |
| Outreach in front of the wheels | approx. 795 mm | approx. 1102 mm |
| Gadget width | approx. 729 mm | approx. 729 mm |
| Total weight | approx. 840 kg | approx. 980 kg |
| Counter weights/td> | approx. 322 kg | approx. 442 kg |
| Sideward-deviation | +/-50 mm = 100 mm | +/-50 mm = 100 mm |
| Battery capacity | approx. 8h | approx. 8h |
| High performance battery | 2 x 12 V = 24 V | 2 x 12 V = 24 V |
| Vacuum suction unit | Automatic 2 circuit suction system with 2 vacuum pumps, 4 suction plates | Automatic 2 circuit suction system with 2 vacuum pumps, 4 suction plates |
Drawing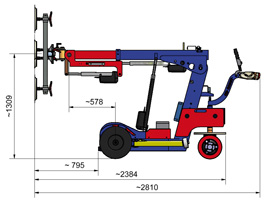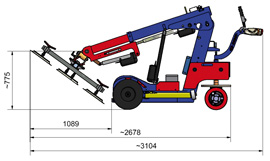 Special turning articulated joint