Glass transporters - KS Schulten - KS Robot 400
KS Robot 400 – mobile, strong and far ahead
KS lifting and assembly equipment for glass, windows, plates, stoneware up to 400 kg load. The equipment with a special swing system ensures for an easier installation.Almost all movements are controlled electrically. Thus, the elements can comfortably handle and assemble precisely.
The KS Robot 400 is the youngest family member under the Robots. A combination of experiences for several years and the technical know-how of the manufacturer of products in our company. The new version should be compact and flexible so that the Robot 400 can be used for ways through narrow halls or doors. Another function of the Robot is that he can move and install elements in different sizes and weights. Furthermore, a high outreach forward and upward should be given to be prepared for all applications.
The results are clear to see: a technically sophisticated machine for loads up to 400 kg and a long telescope of 900 mm, which is characterized by the compact construction.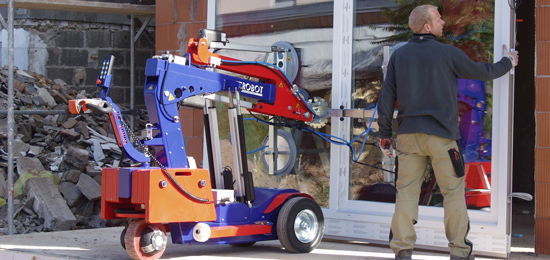 The best site of the KS Robot 400:
Easy to handle
Intelligent drive for a soft start
Synchronization system ensures lifting with constant inclination angle
Millimetre precise installation by sideward-deviation
Special swing system (optional): electrical turning folding hinge to lift glasses from the plate and to swing them up to 90° overhead
Vacuum suction unit with two circuits and two separates pumps for a higher security during installation
Acoustical and optical vacuum control, each single circuit will be controlled and shown
High ease of use by a multifunctional steering wheel and a remote control
Solid rubber tires with a wide surface
High-quality lifting cylinder with 10.000 N force per cylinder
Gas pressure damper for a high durability of servo-cylinders and also compensate big impacts while driving on uneven ground
High-performance battery
24 volt socket on the gadget for charging of installation instruments such as cordless screwdriver and compressor etc.
Technical Data
| | | |
| --- | --- | --- |
|   | Standard | Special turning articulated joint |
| Load capacity | max. 400 kg | max. 400 kg |
| Working height vertical | approx. 2966 mm | approx. 3060 mm |
| Working height horizontal | approx. 3464 mm | approx. 3507 mm |
| Outreach in front of the wheels | approx. 1334 mm | approx. 1504 mm |
| Gadget width | approx. 729 mm | approx. 729 mm |
| Total weight | approx. 830 kg | approx. 840 kg |
| Counter weights | approx. 230 kg | approx. 230 kg |
| Sideward-deviation | +/-50 mm = 100 mm | +/-50 mm = 100 mm |
| Battery capacity | approx. 8h | approx. 8h |
| High performance battery | 2 x 12 V = 24 V | 2 x 12 V = 24 V |
| Vacuum suction unit | Automatic 2 circuit suction system with 2 vacuum pumps, 4 suction plates | Automatic 2 circuit suction system with 2 vacuum pumps, 4 suction plates |
Drawnings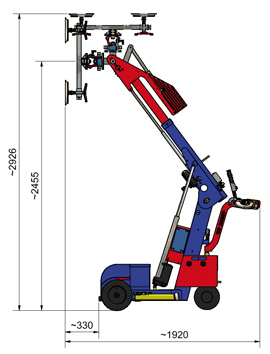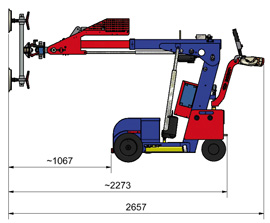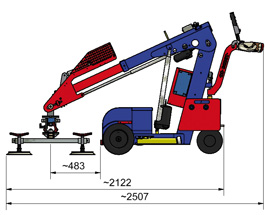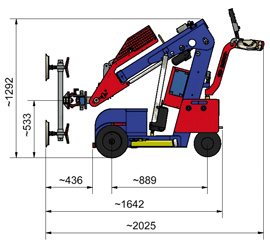 Special turning articulated joint