Glass transporters - KS Schulten - KS Robot 280
KS Robot 280 – the compact Robot for an efficient working method
To raise with the KS lifting and assembly equipment glasses, windows, plates, stoneware to 1.000 kg comfortable, safe move and assemble exactly.
The KS Robot 280 is the smallest and most manoeuvrable electrical lifting machine from all of the KS Robots. The transport and installation of windows and glass panes up to 280 kg are absolutely no problems for the all-rounder. He is characterized by his compact construction and a small turning circle.
The KS Robot 280 is ready for use, even if facing adverse space. His thin chassis with only 630 millimetres is well made for each standard door and thanks to a rotary unit of 90° it is possible to drive with a load through thin ways. The KS Robot mounted playing up to 280 kg heavy materials.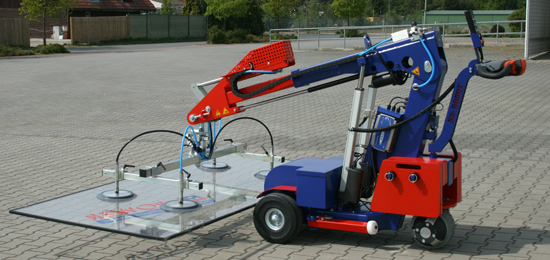 KS Robot 280 offers a lot:
Small and manoeuvrable, very easy to handle
Intelligent drive for a soft start
Lifting of angle of inclination by synchronized control
Millimetre precision montage by changing of track width
Standard equipment enables lifting of loadings from the pallet and to swing them automatically up to 90° overhead
Vacuum suction unit with two cir-cuits and two separates pumps for a higher security of installation
Acoustical and optical vacuum control, each single circuit will be controlled and shown
High ease of use by a multifunc-tional steering wheel and a remote control
Solid rubber tires with a wide sur-face
High-quality lifting cylinder with 10.000 N force per cylinder
High-performance battery
24 volt socket on the gadget for charging of installation instruments such as cordless screwdriver and compressor etc.
| | |
| --- | --- |
| Load capacity | max. 280 kg |
| Working height vertical | approx. 2455 mm |
| Working height horizontal | approx. 2926 mm |
| Outreach in front of the wheels | approx 1067 mm |
| Gadget width | approx. 630 mm |
| Total weight | approx. 537 kg |
| Counter weights | approx. 225 kg |
| Sideward-deviation | +/-50 mm = 100 mm |
| Battery capacity | approx. 8h / coat |
| High performance battery | 2 x 12 V = 24 V |
| Vacuum suction unit | Automatic 2 circuit suction system with 2 vacuum pumps, 4 suction plates |