Glass transporters - FEMAK - Golia 3500TS
Glass lifter Golia 3500TS meets in simple, safe and economical way goods transport and lifting requirements in industrial and craft environments. It can easily lift loads up to 280 kg thanks to the reduction unit that can be operated either manually or by means of a drill-screwer. It is equipped with a handy handle and four large wheels to guarantee an easy safe load transport. The possibility to rotate the aluminium column 180° and to add the counterweight group allows to move jutting out weights and encumbering as glass sheets. The particular system allows to fold up 2 feet reducing the width only to 74 cm making easy also enter a door and transport on cars and small lorries.
Operation:
Thanks to exclusive patented system, lifting and lowering of loads can be carried out by means of a drill (battery or electric) making it easy, fast and safe. In fact, in this way, we avoid the dangerous load waggle, characteristic of traditional winch systems. Machine is alway supplied with a hand crank for emergency..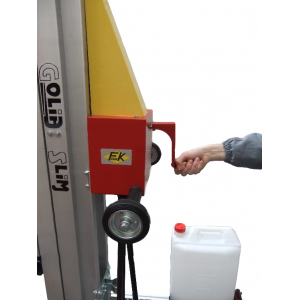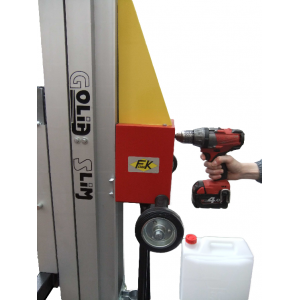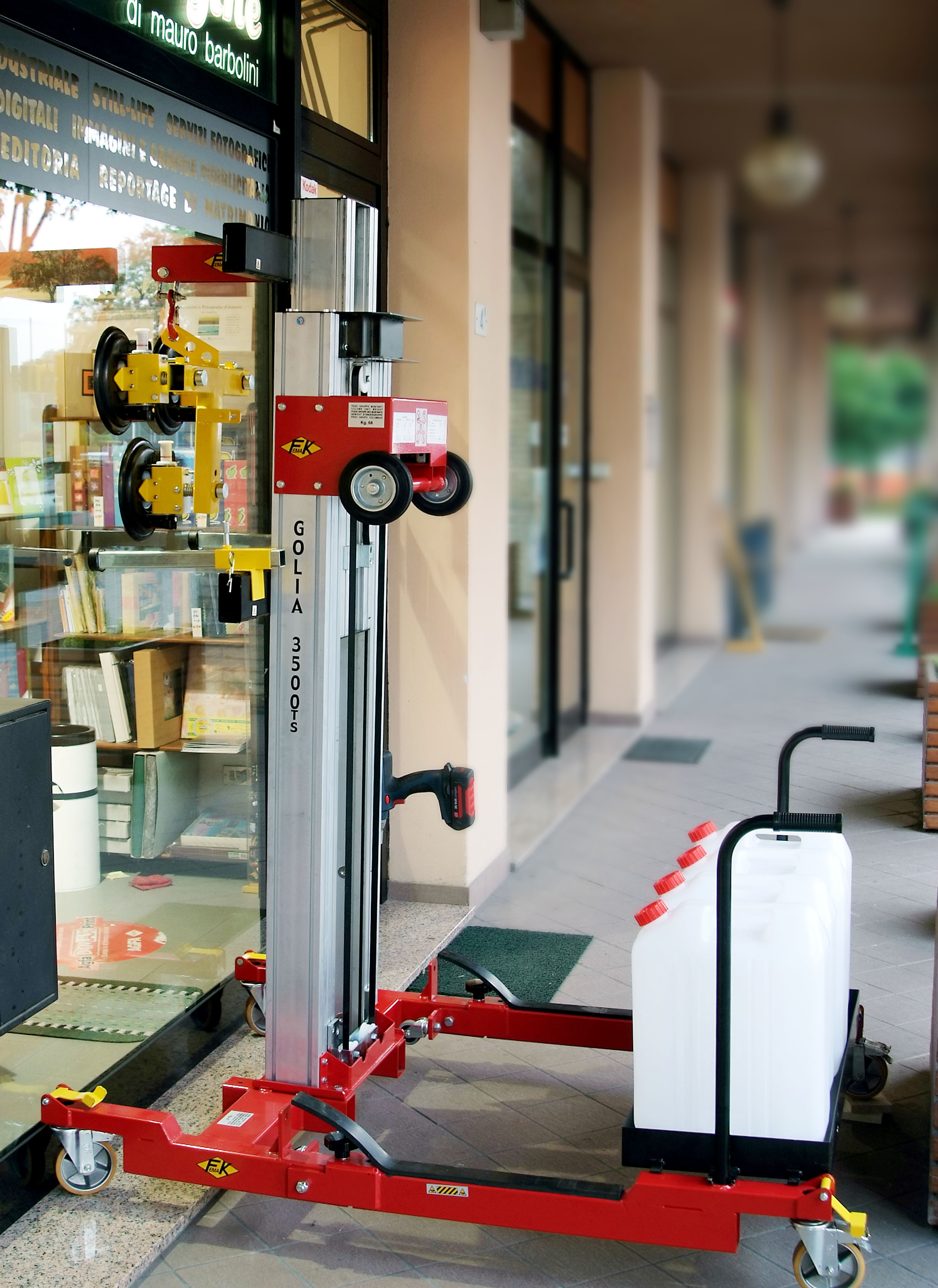 Technical features:
net weight: 115 kg
minimum storage temperature: +2°C
minimum operating temperature: +5°C
maximum operating temperature: +45°C
relative humidity (non-condensing): 95%
maximum load: 280 kg
hight of raising: 325 cm
Standard equipment:
instruction / maintenance handbook case
reduction unit crank
reduction unit coupling
loading wheels
Optional accesories:
suction cups with a maximum load of 210 kg
rotary suction cups powered with 12 V (4 pcs.) with a max. load of 260 kg
rotating and tilting suction cups (4 pcs.) with a max. load of 260 kg
fold frame 1350 x 1700 mm
folding loading shelf 1500 x 400 mm
fork with hook L = 350 mm
swiveling mounted beam (+/- 20° left or right)
counterweight